FREE RESEARCH REPORTS

Struggling to grow your email list?
Need to create more effective content?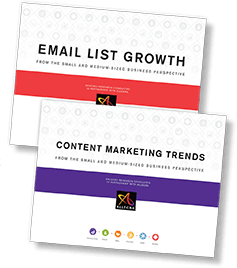 You aren't alone.
Learn marketers' secrets in two FREE reports, including how best to get started! We surveyed marketing, sales and business professionals just like you to understand how budgets and resources are being used ... and what obstacles may prevent success.
These benchmark reports each contain 16 pages of charts and valuable insights that you can put to work for you right away. You'll get:
Email List Growth from the Small and Mid-sized Business Perspective. Learn what 43% of marketers say are the two most effective tactics for growing their email list..and the one thing you can do to start capturing more leads.
Meeting the Challenges of Content Marketing from a Small and Mid-sized Business Perspective. Learn what type of content is considered one of the most effective by nearly half of marketers - though 6 out of 10 say it's the most difficult to create.
Email and content marketing are two of the most powerful ways to increase marketing ROI. And, when you combine the two, it can add up to the perfect formula for identifying leads, nurturing contacts and converting more sales. Don't wait! Get started now, improving the efficiency and effectiveness of your marketing programs. Simply fill out the form to download your reports. They're FREE and there's no obligation.