Training Manuals and Booklets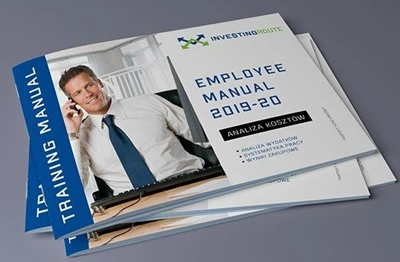 Many businesses and organizations rely on training manuals as a necessary resource to teach everything from safety protocols to customer service processes. These handy tools can be custom designed for a variety of applications including:
Onboarding new employees
Outlining your company's values, rules and mission
Provide a resource for employees or volunteers to reference
Communicate policies and procedures
What do you need to create an effective training manual? It has to be clear, concise and easy to understand for the end user. Your training manuals and booklets should be easy to read, properly laid out and include pictures and diagrams, if necessary, to get your message across – all while sticking to your brand identity.
While many of these items can be tackled with copywriting and design, you also have to consider what the lifespan of your product is. Where will it be used? For example, if your manual will be used outdoors, you should stop and consider if you need additional finishing services.
Here at American Speedy Printing, we understand the questions that you need to ask and answer to make a product that meets your goals. Be sure to ask us about new, ultra-durable materials and binding methods for lasting power. With our extensive array of print and binding services, we will help you produce high-quality company manuals to use for years to come.